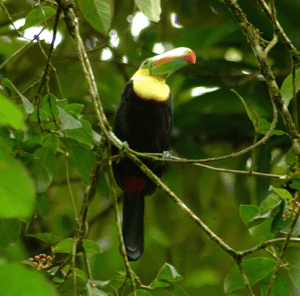 BIRD WATCHING and BIRDING
Bird watching is big business in the small tropical paradise of Costa Rica. Around 893 bird species have been recorded in the country (including Cocos Island). Of those species, seven are endemic and 19 are globally threatened.
The Official List of the Asociación Ornitológica de Costa Rica contains 857 species. About 600 species are resident, with most of the other regular visitors being winter migrants from North America. With said, Costa Rica 20 micro-climates, many terrain ranges and two oceans, it has become host to more birds than the United States and Canada combined making it the ideal place for bird watching.

You don't have to go far or even need binoculars to spot some cool, colorful feathered friend, many times they perch themselves just right outside your hotel window. But armed with a pair of binoculars and a birding guide, the sky is literally the limit for the numbers of birds you can see. A recent study by the Fish and Wildlife Service found that a surprising one in six US citizens are birdwatchers.