RENT CELL PHONES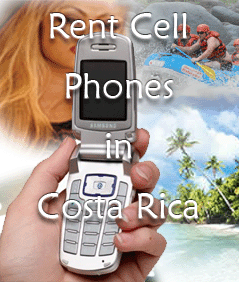 Many arrive in Costa Rica and rent cell phones. And many visitors ask if their cell phones from their home country will work here.

Instituto Costarricense de Electricidad (ICE, pronounced "ee-say") is the leading government owned monopoly of cell phone service. Cellular phones from the USA will generally not work here. And do not believe your US cellular company claiming it will - most of the time customer service personnel often have no idea what are the charges and/or gave you bogus information, and the next thing you knew you got a jaw dropping bill as international fees were applied, which can cost $10/minute.

To put it bluntly, it depends on who your carrier is. If you carrier is a CDMA type (no removable SIM card) (like what Verizon, Sprint, Alltel) you won't get any service in CR, unless you have a GMS (Global Services for Mobile) type of phones. T-Mobile and AT&T are just a couple that use GMS. Or you can use a compatible world phone, a special type of phone that companies like Telestial offers.It used to be that out of country cell phones generally did not work in Costa Rica, and the most common advice was to call your carrier, and find out if your phone did work.
See Pre-paid Sim Cards and Types of Phones in Costa Rica

If you find youself in a must rent, rent your phone from a company that is actually IN Costa Rica as they know what works where and can handle service issues or other problems. Never and I mean never rent a phone from a 3rd party (those mail order companies). Always make sure you know what it is going to cost you. Most cell phone rental companies now have plans, so pick the one that will best fit your needs.