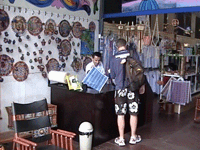 SHOPPING IN COSTA RICA - MALLS
In Costa Rica you can just about find everything from large shopping malls, marketplaces, slick boutiques, small hide-aways and street venders. Some of the largest places to shop would be: Multiplaza in Escazu, Mall San Pedro, Paseo de las Flores in Heredia and TerraMall in Tres Rios (on the way to Cartago from San Jose). Unfortunately, the major corporations have a firm grip in Costa Rica.
Most of these malls are like the US with large food courts that flaunt the typical Americanize fast food chains of McDonalds, Burger King, Kentucky Fried Chicken, Pizza Hut, Taco Bell, TCBY and even Quiznos. Sorry!

Also throughout the Central Valley and tourist beaches are many other shopping centers, many with great [and local] restaurants and other conveniences such as computer stores, pharmacies, dry cleaners, film developing etc..

One of the largest draws is the San Jose Central Market, but if you are claustrophobic, I would not recommend it. The place is worse than Grand Central Station. It's large and filled with small carnie booths that are hyping everything from iPods to turtle jewelry, to fresh fruits and regional art.
TIP: Always keep a good grip on your purse and put your wallet in the front pocket. Never wear any expensive looking jewelry.