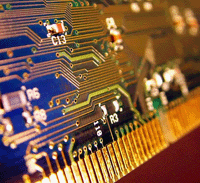 COSTA RICA TECHNOLOGY AND E-COMMERCIAL
Many high-tech companies have chosen Costa Rica as a site for their company because of Costa Rica's Free Zone Laws that offer tax holidays (12-18 years!!!) and incentives of reinvestment, by extending the tax-free period from 16 to 20 years. These companies have also chosen Costa Rica, because most of its labor force is highly educated, limited knowledge of English speaking and writing, and is easily trainable.
Some of the companies that have come to Costa Rica to take advantage of these benefits are: INTEL, ACER AMERICA, DCS Communications (ALCATEL), BAXTER Healthcare, Panasonic, LUCENT Technologies, Conair, Siemens, Hitachi, and many, many more.
High-tech companies demand the need for E-commerce and in Costa Rica it has been very limited in the past (before 2002). This is because the majority of the Costa Rican companies do not even have a website, but that is rapitally changing. One of the major past problems, those websites, usually only offered information about their products let alone have the ability to conduct web transactions due to low credit card penetration, insecure traditional mail service, small country size and cultural issues, specifically lack of trust. Nowaday, the volume of e-commerce transactions in Costa Rica has rose over 200% just between the years 2005-2007, which has been attributed mainly to companies like Paypal that provide easy credit card transaction with secure service and banks getting envolved with their own secure networks.