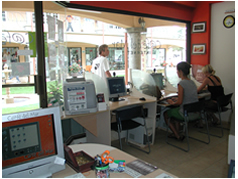 COSTA RICA'S INTERNET CAFES
It's is not TO difficult to stay connected to your email in Costa Rica. Internet cafes have sprung up around the country. However, the two main problems, Costa Rica has ONLY two (but they are really one) ISPs, ICE (Instituto Costarricense de Electricidad and RACSA (Radiografica Costarricense), Cable Tica or AMNET, and they are always having problems. It is a hit and miss to log on, and it occurs mostly during server weather conditions. The second problem, many of the cafes come and go. When putting this category together, over 75% of the Cafes found were no longer in business.
Just about every medium size town has an Internet Cafe and the best way to find one is flag down a Taxi and asked the driver. Hint: Make sure you tip him/her for the advice. Also, the burger joint, McDonalds has been know to have a cyber cafe.
TIP: Travelers with laptops will find that most of the larger/tourist-looking hotels have high speed wireless/WYFI access. So, if you need to view or send an email pull into the hotel parking lot, and providing your laptop has WYFI, you have a very good chance you will connect, but this will usually not work for the larger commercial hotels like the Marriott, where they charge you as much as $6 US for a 1/2 hr. However, be careful and use common sense, DO NOT do any financial transactions or any emails that are confidential. Costa Rica does have its Hackers/Crackers and most are in San Jose downtown area, scanning WIFI channels to get passwords, credit card info etc etc from unsuspecting travelers. On a recent stay at a downtown well-known San Jose hotel, I had to chuckle several times when several attemps were made to get access when I was online, and were blocked by a anti-hacking program I had.

Many of the Internet Cafes sell coffee and/or food while you surf the net. The speeds vary from 56k modems, WYFI and Cable with high speed access. The rates vary, anywhere from $1 to $8 per hour.

Costs for an Interent connection in Costa Rica