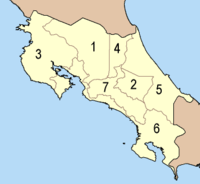 Costa Rica has been an independent country for the whole twentieth century. There have been minor territorial transfers, but the names and capitals of its provinces country has 81 cantons.
A canton is a territorial subdivision of a country, e.g., region or state. The word is derived from the Latin canto "section of a country."
Cantons are generally relatively small in terms of area and population when compared to areas such as counties, departments or provinces.A province is a territorial unit, almost always a country subdivision.
1. Alajuela (Northern Central)
2. Cartago (Central Valley)
3. Guanacaste (North Pacific)
4. Heredia (Northern Mountain)
5. Limon (Caribbean Coast)
6. North Puntarenas (Central Pacific & Nicoya Peninsula)
7. San Jose (San Jose & Central Highlands)