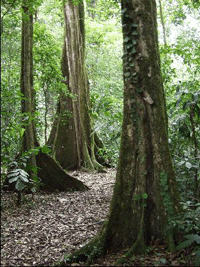 COSTA RICA PROVINCE OF ALAJUELA
Alajuela stretches from the Central Mountain Range to the fertile northern plains, presenting a remarkable diversity of stunning landscapes, with two of the most popular active volcanoes in the country, Poas and Arenal." The San Jose International Airport is located in Alajuela.

Individual Cantons of Alajuela are Alajuela, San Ramón, Grecia, San Matéo, Atenas, Naranjo, Palmares, Poás, Orotina, San Carlos, Alfaro Ruíz, Valverde Vega, Upala, Los Chiles, Guatuso

The provincial capital of Alajuela lies about 18km (as the crow fiies) northwest of San José. The city is on a gently sloping hill that has an altitude of 920m on the southwestern side of town, rising to 970m on the northeastern side. It is about 200m lower than San José and has a slightly warmer cIimate, thus attracting josefinos on summer outings. Alajuela's town center is a slightly scaleddown version of the busy market areas in San José, but it generally enjoys a more unhurried pace of than the nearby capital. Several nearby villages and other attractions (the Butterfiy Farm and Zoo Ave) are popular places.
The city is the second-Iargest city in Costa Rica. It was founded in 1782. The original name was Villa Hermosa, but no 18th-century architecture survives. The Juan Santamaría International Airport, serving San José, is only 2.5km southeast of Alajuela. This makes Alajuela a convenient alternative to more bustling and smoggy San José for those using the airport.