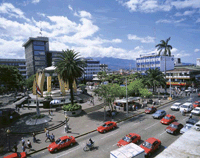 COSTA RICA SAN JOSE PROVINCE
San José is the central Province with the capital with the same name. San José has been the capital of Costa Rica and the seat of its democratic government since 1823. Nestled high in the Central Valley (1,253 meters/3,770 feet), between green volcanic mountain ranges, the metropolitan city of about two million people is oriented east and west, surrounded by suburbs that cling to the gentle foothills. The nearby town of Escazú, southwest of the city off the autopista, is home to the largest population of North Americans living in Costa Rica, either full-time or part-time, and is consequently more upscale than San Josés downtown or other suburbs.

There are numerous touristic places around San José and El Pueblo is the best know with its mix of more than 50 bars, clubs, restaurants, art galleries and shops. Lining the picturesque cobblestone streets within walking distance of several hotels and resorts, it is a lively place from 9 p.m. until dawn.

Calle de la Amargura in San Pedro near the University of Costa Rica has a wide selection of bars, restaurants and discos and caters to University students with food and drinks for relatively low prices. The cantons of Escazú and Santa Ana offer many options and quality places, though sometimes at inflated prices. San Jose has drawn nation attention due to their many red-light districts around the city where the adult entertainment business is growing.