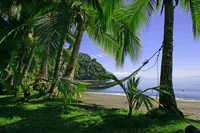 COSTA RICA CARIBBEAN REAL ESTATE for SALE
The Pacific real estate of Costa Rica is different from those of Caribbean real estate. About half of the Caribbean Coast is protected by two National Parks and two National Wildlife Refuges and all part of the Limón, province. One third of the habitants are of Jamaican descent and English is spoken with many with an unhurried and laid-back life style.
The Caribbean coast offers world-class fishing, bird watching, horseback riding and all types of water activities including white-water rafting, ocean and river kayaking, surfing, diving and snorkeling. The region is probably most know for the small village of Tortuguero (Region of Turtles), located approximately 50 miles north of the principal Port of Limon, which has a proposed redevelopment plan in the making.
The above is just one of the many reasons why the Caribbean has become a popular place for Costa Rica agents and brokers selling property in such cities and areas as Amubri, Bratsi, Bribri, Cahuita, Chase, Limon, Manzanillo, Moin, Pandora, Parque Nacional Cahuita Penshurst, Playa Chiquita, Puerto Limon, Puerto Viejo de Talamanca, Refugio Gandoca - Manzanillo Shiroles and Sixaola
Retire in Costa Rica
Santa Ana, San Jose and Heredia on Investment
Costa Rica Real Estate Fraud
Buying Property In Costa Rica – Taxes, Capital Gains, Corporation
Costa Rica Squatters – Legal Procedures