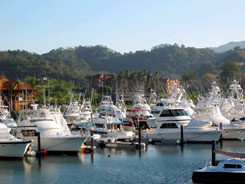 COSTA RICA CENTRAL PACIFIC REAL ESTATE
This is probably the hottest area in all of Costa Rica. The region comprises a narrow coastal plain hemmed hard up to the ocean by steep forest-clad mountains. The shore is long, guiet, gray-sand beaches washed by huge waves world-famous in surfing lore.

Jacó, the most developed resort in the country, retains its popularity with the party-hearty crowd despite its dark sandy beach and just north, the rich and famous, Los Sueno Marina and Development. Surfing beaches extend all the way south to Dominical and, beyond, the Brunca Coast, a once-inaccessible region in the throes of tourist development. Other hot cities in Central Pacific of Costa Rica are Dominical, Playa del Jaco, Puntarenas, San Isidro de El General.
Some of the best national parks are, Tárcoles, Carara National Park, Villas Caletas, Rainmaker Conservation, Project, Manuel Antonio National Park, Savegre River Plantation and Barú National Wildlife Refuge Escaleras. The Los Sueños Marina is best known for its sports fishing and because of this makes this area's real estate very demanding.
Retire in Costa Rica
Santa Ana, San Jose and Heredia on Investment
Costa Rica Real Estate Fraud
Buying Property In Costa Rica – Taxes, Capital Gains, Corporation
Costa Rica Squatters – Legal Procedures