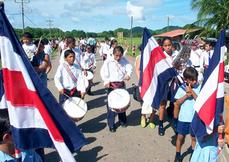 COSTA RICA SOCIETY AND CULTURE
Costa Ricans often refer to themselves as tico (masculine) or tica (feminine). "Tico" comes from the popular local usage of "tico" and "tica" as diminutive suffixes (e.g., "momentico" instead of "momentito"). The phrase "Pura Vida" (literally "Pure Life") is a ubiquitous motto in Costa Rica. Some youth use mae, a contraction of "maje" (mae means "guy/dude"), to refer to each other, although this might be perceived as insulting to those of an older generation; maje was a synonym for "tonto" (stupid). Social and Culture classes in Costa Rica is homogenous.
The majority of the population is middle-class. Extreme poverty does exist such as many of the other Central American neighbors have. When comparing Costa Rica to developed countries, average income is low but much higher than its surrounding Latin American countries. The upper class are small in numbers, but are slowly gaining presence with many retirees moving to Costa Rica. The huge middle-class society is a tribute to the strong democratic system that promotes equal opportunity.
Since Costa Rica has been greatly influenced by American (the U.S. government dumps tons of money into Costa Rica) standards, many large companies, like, Microsoft, Jack in the Box and Office Depot have opened up retailers in the country. It is not uncommon to be cruising the countryside and seeing a Starbucks which has greatly influenced the social and culture side of Costa Rica