Not to be confused with the mountainous region north of San Jose,  about half way between the Pacific side cities of Uvita (South of the Dominical) and Puerto Cortes, lies the growth-targeted  natural wonderland of another,  Coronado.
While tourist and retirees were flocking to Costa Rica's northern Pacific Coast which has been perceived as the country's first hot spot, further South (about 240 km from San Jose) on the Puntarenas province, and among the mist-shrouded mountains, cascading  rivers, and vast tropical forests of the southern zone remained a secret that for years has been maintained by  adventure-tourists, eco-gurus, and local Costa Ricans. It is warm and humid year round, average temperature: 83°.  It's rainiest season from May through October.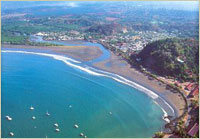 Needless to say, Costa Rican Government has anticipating the potential of this region first starting with President Oscar Arias who  has finalized plans for a new international airport in the area that is to be built by 2010.
A new international airport is planned for the area, just outside Palmar Sur. The land has been assembled and one of the main prerequisites, a 224-bed hospital, that offers first-rate health care and a planned development of a wellness care center  is currently on the drawing board, is going up near Cortés, 20 minutes away. The airport and large marina in Golfito will river mouth view be built, but projects of this magnitude, like Lomos Coronado (an eco-planned development) and others,  demand time and patience in Costa Rica.
The Liberia International airport in Guanacaste took years from its planning stage 20 years ago to construction and current use. Once it began to host daily commercial flights and charters from the U.S. and Canada, property values in that area more than doubled in two-three years. Similar projects will have the same or even more impact on future real estate prices in this area.
The coast-hugging and paving of Costañera Highway into the Pan-American Highway highway are almost competed making  the once-was-all-day-drive, now only a few hours. Need I say more about this little known area that was once largely overlooked by expats and all but the most adventurous of tourists, this area is emerging as the best value-oriented Costa Rica Real Estate (maybe even in all of Central America) right now.
The largest closest town is Sierpe; a small rural environment where everyone knows everyone by name.  The simple way of life has not been jaded by too many cars or tourism gone wild.
Sierpe is considered the mainland gateway to the Osa Peninsula and all its jewels including: Cano Island Biological Reserve, Corcovado National Park, and the Terraba – Sierpe National Wetlands. Sierpe is also a popular fishing village and several tour companies offer excursions into neighboring rivers and the Pacific Ocean.  Fantastic diving is just a two-hour boat ride (or less) away through the beautiful Terraba-Sierpe Wetlands, the largest mangrove forest in Central America.

Calypso Cruises