I love to fish, and have been doing it since I was about five years old. I also love to eat fish, but I'm very picky  because I grew up eating nothing but fresh fish! The problem is most of the fish one buys in the U.S, is not considered fresh in by book,  but in Costa Rica, that's another story.
Beside going out catching in, if you have the craving for fish there are two good ways of how to buy fresh fish.
1) If the eyes of the fish look fogged over (gray color), it is not fresh.
2) Always smell the fish.  Fresh fish has a clean, somewhat salty smell. Fish start to get the fishy smell (or decay) just minutes after they are dead. If the fish is cleaned ASAP after caught, and then put on ice ASAP, this delays the decay, preventing the fishy smell.
One of the best places to buy fresh fish is at San Jose's,  Mercado Central where fresh fish is delivered what seems like every 30 minutes. I have even seen locals buy it right off the delivery trucks.
Below are a  few fish recipes based on fish commonly caught in Costa Rica and the favorite of a good friend who charters,  Costa Rica Fishing trips.  However,  some of the ingredients are not found in the local markets, but in gourmet and ethnic stores and/or the big supermarkets like Mas ye Menos.
Even if it may be a hassle to get the ingredients, the reward  is the joy of eating something  you caught that day, or picking out the fish at the local market, and/or went down to the dock and made a deal with a local fishermen.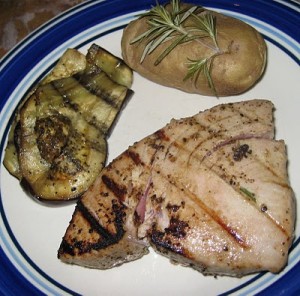 TUNA – Grilled Tuna Steaks Baja
4 center cut fresh tuna filets 6 – 8 ounces each
2 tablespoons olive oil
1/2 teaspoon minced garlic
1 tablespoon minced shallot or red onion
1 fresh jalapeno, minced, seeds removed
zest and juice from one lime
1/4 teaspoon ground cumin
1/2 teaspoon minced cilantro
pinch of fresh ground black pepper
Combine all ingredients except tuna in a large bowl and mix. Pour the mixture over the tuna steaks and let sit for one hour under refrigeration. Grill tuna on a preheated hot grill, approximately three minutes each side. Serves four.
Spicy Tuna Steaks
1/4 cup vegetable oil
6 cloves garlic, minced or pressed
3 tablespoons soy sauce
1/4 teaspoon dry mustard
3 tablespoons fresh lemon juice
1/2 teaspoon freshly ground pepper
2 pounds tuna steaks
1 lemon, cut in wedges
In a medium bowl, combine oil, garlic, soy sauce, mustard, lemon juice and pepper. Mix well. Rinse fish under cold running water and pat dry. Place fish in a shallow bowl and cover with marinade. Refrigerate for one hour. Cook fish under a preheated broiler for five to seven minutes on each side, or until opaque, or grill fish on an outdoor barbecue. Serve with lemon wedges.
Serves four.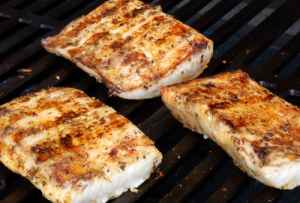 DORADO – Grilled Dorado with Julienne Vegetables
4 (6-8 ounce) Dorado filets
1 tablespoon fresh minced garlic
1 tablespoon fresh minced ginger
1 tablespoon extra virgin olive oil
pinch of salt and pepper
The Julienne Vegetables:
1 cup julienne pea pods
1 cup julienne carrots
1 cup julienne shitaki mushrooms
1/2 cup julienne leeks
1/2 cup julienne yellow squash
1 tablespoon cilantro (minced)
1 tablespoon sesame seed oil
1/2 cup rice vinegar
1 teaspoon minced fresh ginger
1 teaspoon minced garlic
zest and juice from one lime
1 tablespoon honey
black sesame seeds
Season the fish with salt and pepper. Combine the olive oil with the ginger and garlic and rub evenly over the Dorado. Place the fish on a preheated and cleaned grill. The grill should be very hot to reduce sticking of the fish.
Prepare the julienne vegetables. Heat a large sauté pan over a medium flame and add the sesame oil. Once the oil is hot add the ginger and garlic and sauté for 15 seconds, add all the julienne vegetables and sauté for two minutes stirring often. Once the vegetables begin to soften add the juice and zest of the lime, the rice vinegar, honey and the fresh cilantro.
Cook the fish on the grill for approximately 2-3 minutes per side or to an internal temperature of 145 degrees. Place the mahi on a serving plate and spoon over the julienne vegetables making sure to include some of the fantastic cooking juices.
Serves four.
Sake Shoyu Glazed Dorado with Spicy Chinese Long Beans and Mango Lilikoi Vinaigrette
6 (6-8 ounces) Dorado fillets
1/2 cup soy sauce
1/2 cup Saké or Mirin
1/2 Maui onion (or Spanish onion)
1/2 cup fresh ginger, minced
1 teaspoon sambal olek (or crushed red pepper)
1 teaspoon sesame oil
1 pound fresh Chinese long beans, cut into 3″ lengths
1 bottle Mango Lilikoi vinaigrette (ask in a gourmet store)
salt and pepper to taste
Garnish:
black and white sesame seeds, toasted
red Tobiko caviar (Flying Fish roe)
fresh chopped parsley
Put soy sauce, sake, onion, ginger, sambal olek, and sesame oil into a blender and blend until smooth. Season to taste with salt and pepper. Marinate the dorado fillets for one hour in this mixture.
In a hot pan, sear the fish until golden brown over high heat. Remove the fish, and place on a sheet pan, and bake in a 400 degree oven until the fish is cooked to desired temperature, about six to eight minutes. Deep fry the beans in 350 degree oil and toss in half of the Mango Lilikoi vinaigrette.
Place equal amounts of the beans in the center of six plates. Place the fish on top of each plate and drizzle the remaining Mango Lilikoi vinaigrette around the plate. Garnish each fish with a sprinkle of the sesame seeds and parsley. Place 1/2 tsp of the Tobiko on top of each fish.
Serves six.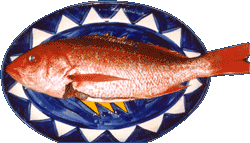 SNAPPER – Snapper Vera Cruz (Crock Pot Recipe)
1 tablespoon vegetable oil
1 medium onion, finely chopped
2 cloves garlic, minced
1/2 teaspoon dried oregano leaves
1/4 teaspoon ground cinnamon
1/8 teaspoon ground cloves
2 jalapeno peppers, finely chopped
1 can (28 ounces) diced peeled tomatoes, drained
1/2 cup fish stock or clam juice
1 1/2 pounds Snapper fillets, cut in half lengthwise and sliced as thinly horizontally
2 tablespoons lemon juice
1 tablespoon drained capers
10 pitted olives, thinly sliced
Hot tortillas (optional)
In a skillet, heat oil over medium heat. Add onions and cook, stirring, until softened. Add garlic, oregano, cinnamon, cloves and jalapeno peppers and cook, stirring, for one minute. Add tomatoes and stock and bring to a boil.
Transfer mixture to a slow cooker. Cover and cook on low heat setting six to eight hours or on high setting three to four hours, until hot and bubbling. Stir in fish and lemon juice. Cover and cook on high heat setting 20 minutes or until fish is cooked through. Stir in capers and pour mixture onto a deep platter. Garnish with olives and serve.  Serves six.
Caribbean Red Snapper
one five-pound Snapper
salt and pepper to taste
1/2 lime
1/4 cup flour
1 cup rice
1 cup chopped raw shrimp
1/2 cup chopped green onions, including tops
1/2 cup very thinly sliced celery
1 tablespoon minced fresh ginger
2 bacon slices
1/4 cup dry white wine
Season Snapper with salt and pepper, inside and out. Rub with the lime. Sprinkle evenly with the flour. Combine rice, shrimp, onion, celery and ginger root. Spoon into fish. Skewer or sew opening. Lay fish in a heavily buttered baking pan. Score the top of the fish in an attractive design to prevent the fish from buckling. Lay bacon slices over the top. Bake at 350 degrees for 45 minutes or until fish flakes. Transfer fish to a warm platter. Deglaze baking pan with white dry wine. Pour liquid over fish.
Serves four-six.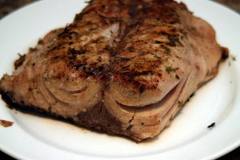 AMBERJACK – Oven-Baked Amberjack with Smoked Almonds
2 pounds Amberjack fillets, cut into serving size
3 tablespoons butter or margarine
1 tablespoon lemon juice
1 1/2 cup sliced mushrooms
1/2 teaspoon salt
1/2 cup hickory-smoke flavored almonds
teaspoon lemon pepper
2 tablespoons chopped parsley
parsley sprigs and lemon wedges for garnish
Place fillets in a single layer in a well-oiled baking dish. Sprinkle with lemon juice, salt, and lemon pepper. Bake at 350 degrees for 10 minutes per inch of thickness or until fish flakes easily and is no longer translucent in the center.
Meanwhile, combine remaining ingredients in a saucepan and sauté over low heat for five to seven minutes. To serve, spoon mushroom mixture over fish. Garnish with parsley springs and lemon wedges.  Serves six.
MACKEREL – Grilled Mackerel with Green Sauce
6 small Mackerel, scaled and gutted
1 large onion, roughly chopped
5 garlic cloves
5 fresh green chilies
3 ounces fresh coconut flesh, grated or finely chopped
4 tablespoons fresh coriander, chopped
1 teaspoon ground cumin
2 limes, juiced
2 tablespoons fresh minced ginger
1 teaspoon sugar (optional)
Cracking open a coconut needn't be complicated. Pierce two of the eyes with an awl or screwdriver and pour out the water. Gently tap the nut around the centre with a hammer. Then throw the coconut down onto a hard surface, such as a concrete floor, and grate or chop the flesh from the shell pieces.
Slash the Mackerel three times diagonally on each side.
Put all the other ingredients in the food processor and blend to a smooth paste. Spread the paste over the Mackerel and grill under a medium heat for 7-8 minutes on each side. The dish will be ready once the green sauce starts to bubble and the fish flesh flakes easily. Serve with a simple avocado salad.
Serves six.
Mackerel in Gin and Grapefruit Sauce
2 small, fresh Mackerel
1 large green grapefruit
1 small sweet onion, very finely chopped Gin
2 teaspoons soft brown sugar
2 ounces butter
orange juice
potato starch
Clean the Mackerel and zest the grapefruit, then juice it. Reserve four thin slices of peel. Add an equal quantity of gin to the juice and zest. Marinade the fish in this mixture for at least a couple of hours.
Remove the fish from the marinade, and grill for about 5-8 minutes on each side, depending on the size of the fish (until the flesh next to the bone is just opaque).
Meanwhile fry the onion in the butter on a low heat until just golden. Add the marinade and sugar, and turn the heat up – simmer the sauce until it is thickish. Adjust seasoning, and thickness with orange juice and potato starch. Serves two – double amount for four.
Happy eating


Calypso Cruises