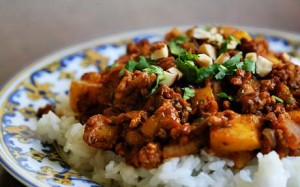 Picadillo is a traditional dish in many Latin American countries and the Philippines (where it is known as giniling, and also Arroz a la Cubana) that is similar to hash.
It is made with ground meat (usually beef), tomatoes (tomato sauce may be used as a substitute), and other ingredients that vary by region.
Costa Rican versions always include the name of the vegetable which represents the main ingredient to the dish, (Potato Picadillo, Ayote Picadillo, etc.) and which is chopped and cooked with bell peppers, onions, stock, herbs and spices. It can include some type of protein but that is not essential. It is often served with tortillas, bread, or on top of rice as the photo shows.
Beef Picadillo
Ingredients (feeds about 4)
2 cups of chopped squash. Note some like to use Chayotes, but it s hassle to peal because one has to use gloves and then boil for about 15 minutes – many experience a reaction to raw chayotes. The choice is yours. However, there is a natural sweetness to Chayotes that adds a nice flavor.
1 1/2 cups frozen corn
1 medium yellow onion
5 cloves of Garlic
2 medium bell (green or red or split both) Peppers
2 stalks celery
1 cup cilantro
1 lb of ground beef (lean)
hot or lizano sause to season per one's taste
1 cup diced fresh pineapple or 1 cup cubed (optional)
2 tsp salt
2 tsp black pepper
1 tbsp cumin
8 Strips bacon
3 Tbsp unsalted butter
1 1/2 cup of sour cream (optional and used as a garnish on top of soup.
Directions
Fry bacon in a large fry pan turning occasionally until well-cooked but not burnt. Remove from pan, let cool and break into small pieces by hand.

Peel and dice the onion, mince the garlic and chop the bell peppers into small pieces.
In the same pan with bacon grease, cooked beef, onion, garlic, bell pepper, squash, and celery. Cook on medium-high heat until slightly soft, about 2-3 minutes breaking up the beef as it cooks.
Add butter, corn, cilantro, pineapple, squash (Chayote is used), black pepper and cumin. Mix well. Salt and add hot or lizano sause to taste. Add sour cream/chopped cilantro to garnish. Serve on top of white rice.
~~~ You can add a few cups of beef broth and make a hearty soup ~~~
Enjoy …

Calypso Cruises