The first time I went to Puerto Jimenez was back in the mid 1970, and it took us about three days traveling on very pot-hole ridden, one-lane dirt road. And thinking back, I think we were heading to Panama or Golfito, made a right instead of going straight at Chacarita,  and ended in this very remote town. About the only Gringos we saw were surfers who were headed to Cabo Matapalo, a small town that was becoming known for its awesome surf break. At the time it become most famous for its gold mining and logging in the 1960s. Even today, some try their luck at gold mining and these wood mills are still seen on the way.
Named in honor of Costa Rican three-time elected President Ricardo Jiménez, Puerto Jimenez has grown to become the largest town on the Osa Peninsula that's located in the southern part of the Puntarenas province and the threshold of Corcovado National Park.
The town itself is not much; a couple of gravel streets that surround a soccer field, a block of general stores, few inexpensive but mostly expensive restaurant/bars, waterfront boardwalk, water taxi service to Golfito, funeral home, a butcher shop, a airport, and a lot of tourist trap gift shops; squawking Scarlet Macaws fly overhead constantly and monkeys do high-tail it crossing roads.
Video – Driving to Puerto Jiménez
It is very evident when entering town when one sees mini billboards advertising services for backpackers and eco-gurus.
Regardless of its eco-fame, the town still has managed to maintain that traditional and culture Costa Rican feel as its Golfo Dulce neighbor, Golfito. And despite its small size and lay backed pace, Puerto Jiménez is a bustling little burg, where rough jungle gold-panners mix with wealthy ecotourists, budget backpackers, and a pinch of celebrities seeking a small dose of anonymity and escape at the well-known all exclusive Crocodile Hotel.
With it being undeniably convenient as the last stop to Corcovado National Park, it has adapted very well to the high concentration of passing tourists and with that said, taken advantage of the eco-tourist-bucks. Even 2-4 years ago, for a few dollars one could have lodging for the night and for less than a dollar, one could get a meal of beans/rice and a huge slab of Dorado. But that has changed with eco-tourism, the prices have affected it and in some places the Gringo prices hit hard. Places like the local Mexican "Sports Bar" restaurant a meal of tacos, beans and rice demand $8-$12USD for so so Mexican food. Want fresh fish – expect to pay over $12USD. At the local Italian restaurant (which is very good) expect a hit into the pocketbook.
About the only place in town that seems to be reasonable is the smoke-free Super Mercado at the edge of town.
Sport fishing charters have opened up everywhere, and for those that want a TON of recreation, and to be more adventurous, hiking, rappelling, mountain biking and kayaking tours are on hand. If you prefer a more tranquil relaxed holiday, just about every corner has dolphin watching tours of the lovely Golfo Dulce and the Pacific. Personally, the place is a photographer's dream with amazing sunrises in all of Costa Rica.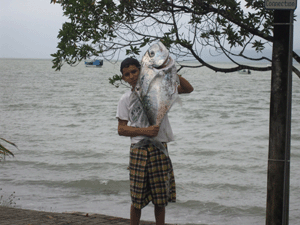 If you are interested in partying one has to be a bit careful, as by night Puerto Jimenez tends to get a bit rowdy with the local bars that only cater to the locals. For a tourist, your best bet is to keep to the tourist places that run along the waterfront.
One of the coolest things about Jiménez is the beautiful Scarlet Macaws that fly in huge groups of 50-100 and it is common for them to nest in some tree overhead. If you know monkeys, you can spot up to four different species. When staying at the Cabinas Jimenez and each morning having my coffee while checking emails my company was couple of spider monkeys, brightly colored birds, and predatory looking lizards.
You can get to Puerto Jimenez either by bus or car. However, be prepared, on a good day, it can be as long as a 10-hour drive from San Jose. Fastest way is to fly out of San Jose International Airport on either Natural Air or Sansa Regional Airlines

Calypso Cruises