Costa Rica is known for its adult entertainment with its Massage Parlors, pick up bars, strip and adult entertainment clubs, and "guests pay extra" hotels. Below is a map of some of the well-known establishments such as Del Rey, Monaco, Tangas, Cha Cha Cha, New Fantasy, VIPs Lipsticks and Bar Dorado.
All these places are in what is known as "Red Zone" or "Zona Roja" of San Jose, which begins one block north of the Mercado Central and in the area of "Gringo Glutch," which centers around the Hotel Del Rey.
These areas at times (especially on the weekends) get congested with vehicles and pedestrian traffic and are strongly patrolled by police.
Please read: Prostitution and Escorts in Costa Rica
Other known place places like Olympus (Totally Nude Strip Club) in Downtown San Jose is now closed, and now now called Alcasar; Josephines (Strip Club) in Downtown San Jose is now called Nicole's; Atlantis Night Club (Strip Club) – La Uruca, San Jose is now closed as of this writing. The Monkey Bar (across from the Del Rey) is also closed, but we heard it will be opening sometime soon.
Places that have changed location: Elite Club (Show Bar) – Downtown, San Jose (Still called Elite, but in Paseo Colon area).
Other Costa Rican Adult links:
SAN JOSE STRIP CLUBS | NUDIST CAMPS | Del Rey Hotel | Costa Rica Gay and Lesbian Nightlife | Map of San Josa, Costa Rica Adult Nightlife | Strip and Night Club Reviews and Locations in San Jose | Best Information Source for Gays
PLEASE NOTE: Use the map below as a guide and informational source only. Tico Times Directory/Blog takes no responsibly of what is listed below – Users use at their own risk.
Map provide by Monger Network
Right click on the map to view larger, or view in pdf.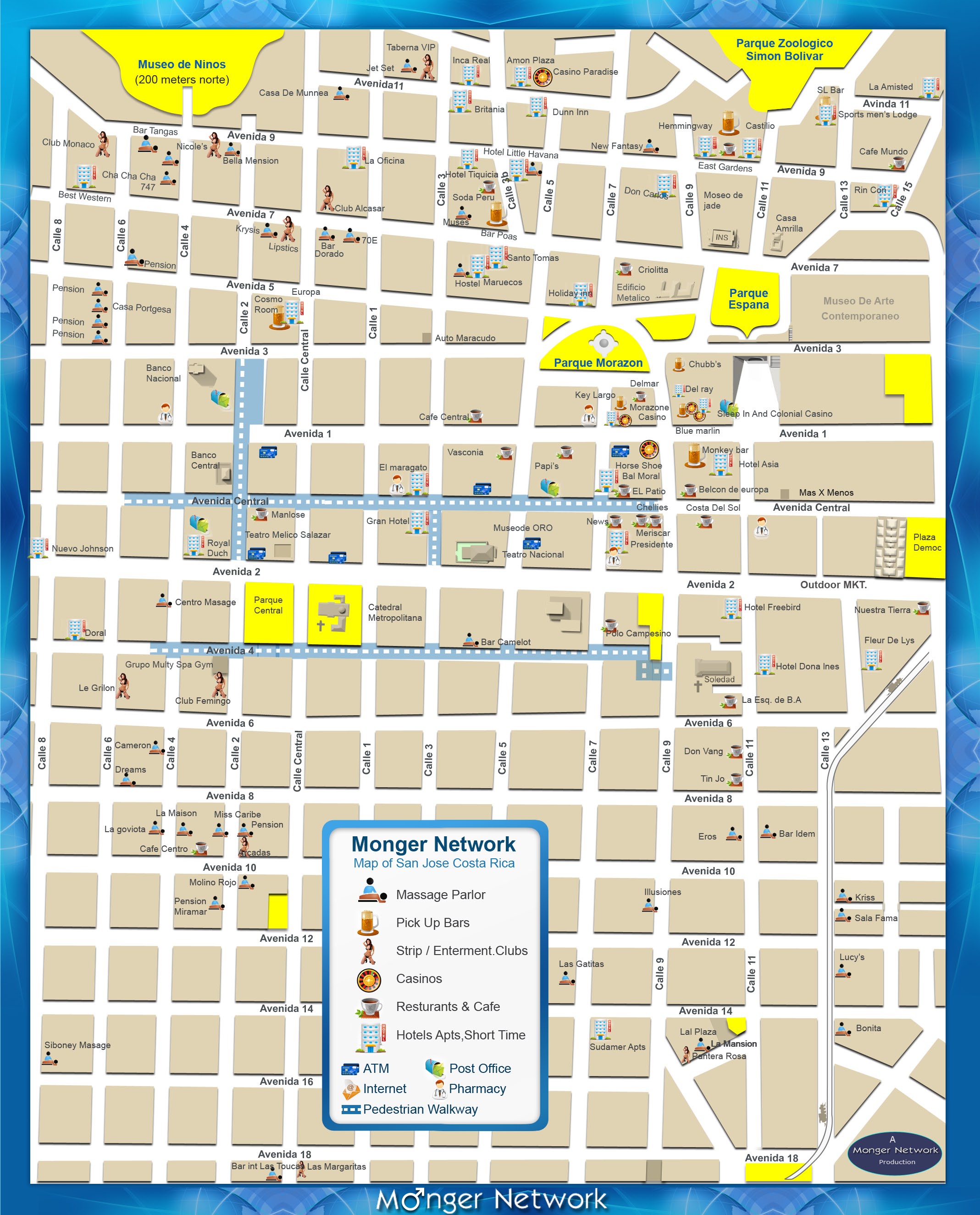 Calypso Cruises