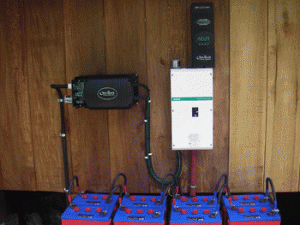 Up until quite recently in Costa Rica, the proposition of saving both money and the Earth with photovoltaic solar systems has stood on some pretty shaky ground. But that is changing.  Nowadays,  more and more Costa Ricans and expats are installing stand-alone or autonomous photovoltaic systems in the country's remotest regions and have made it possible for people to live well where ordinarily they could not.  Also, although stand-alone solar systems are worth their investment versus a generator, with their large battery banks they do constitute a hefty initial outlay – but it is worth it?  Yes it is!
Imagine investing  in a product that builds the most home equity, requires no maintenance, comes with a factory warranty of 25 years, begins paying for itself the month after it's installed and diminishes your home or business' carbon footprint.  A photovoltaic grid-tie system reduces or eliminates electricity bills through solar panels that generate energy for the grid, which is obliged to deduct the energy's cost from the owner's monthly bills.  In other words, the electricity bill is either reduced substantially or eliminated.  The system is essentially solar panels and an inverter.
Upon connecting it to the grid, the electricity meter begins to spin in reverse during solar radiation hours, effectively reducing the amount metered and charged to the system's owner.
In Costa Rica, if your home has a few light bulbs, a refrigerator, a TV, some fans, and a washing machine, your electricity bill will be quite reasonable and probably not worth the investment solar energy, unless you are ecology minded.   However, if you prefer some modern conveniences like air-conditioning, a clothes dryer, or a Jacuzzi, you'll experience some of the world's most expensive electricity.
This is because of Costa Rica's progressive energy rates: the more you consume, the more you pay per kWh (kilowatt hour).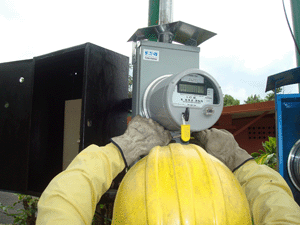 However, the good news is last November, Costa Rica, formalized the implementation of the grid-tie law (Law 7200, Ley 7200,  Costa Rica Ley), officially allowing home or business owners to connect private solar systems to the grid.  Surprisingly, the process is relatively easy and red-tape free.
Yes, you read right, red-tape free! Something that is almost unheard of in Costa Rica!
You buy the panels and the inverter through a local alternative energy company, which installs the system and helps you with the documentation: 1) the ICE Grid-tie Agreement (Instituto Costarricense de Electricidad acuerdo de interconexión) and 2) Request for a Grid-tie Connection, of which there are two types: one for under 10kW, the other for over 10kW (Solicitud para conexión a la red de un sistema menor a 10 kW/mayor a 10 kW).
The money saving aspect of a grid-connected system is difficult to ignore when placed in the context that, since 1989, ICE has increased its energy rates an average of over 17% a year.
When you include this figure in a return on investment formula, the payback period in most cases is from 5 to 8 years, depending on the region and the consumption level.  Factor in the panels, which comprise 90% of the investment, usually are guaranteed for 25 years (10-year, 90% power guarantee, 25-year, 80% power guarantee) and what results is one of the best and safest of investments, not only for the pocketbook, but also for the environment.
One of the worst problems with most urban development is that it requires roof construction, a necessary, but environmentally harmful, consequence since roofs prevent rain water from reaching the water tables and the growth of flora under them.  However, with the advent of grid-tie systems in Costa Rica, now owners of homes and businesses  have already been constructed can counteract their roof's deleterious effects to the benefit of the planet as well as their budget.  Suddenly, the otherwise detrimental roof can be used to install solar panels that not only produce clean energy, but also provide the roof shade that keeps interiors cooler and saves more energy.  With this new breakthrough, you can feel better about yourselves and your core principles because with grid-tie systems  no longer inadvertently encourage development in formerly pristine areas.
Now you can dedicate ourselves to turning the inevitable negative of urban development into a positive for Mother Nature.  Now you can say remorselessly that you are indeed saving money and saving the planet.

Article by Rafael Dovale of Inti Tech Solar, a leading Costa Rica-based alternative energy and development company in operation since 1999.

Calypso Cruises