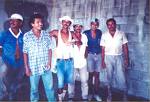 EMPLOYMENT IN COSTA RICA
If you are a foreign national, finding a Costa Rica job can be tricky and frustrating. There are a number of agencies that help recruit foreign national for jobs. However, these are ONLY jobs that are difficult to fill with Costa Rica residents (e.g., teaching English, English-speaking tour guides, environmental concerns and computer science, or some management position of a Forbes 500 company).
In fact, starting your own business in Costa Rica is easlier because there are fewer restrictions on self-employed foreign residents, however, read the article on working legally in Costa Rica

Foreigners must do one of two things to be able to work in Costa Rica: get a work permit through the employer or apply for residency, preferably through a lawyer. The work permit must be renewed every year. Many foreigners find themselves seeking residences status, after a year or even before.

Hiring Costa Rica Workers
However, do not expect to be rolling in bucks, the average worker only makes $300-$500 a month, unless you can find jobs through multinational companies that operate in Costa Rica, such as Microsoft, Intel, Motorola, etc. Upper management positions usually demand good or excellent knowledge of Spanish and offer salaries starting at $2000/month which as you can see, is very good in Costa Rica, considering lower living costs. For $2000/month. you can have a nice house/condo/apartment, with maid service and gardener and still live very nicely.
Large corporations will usually handle all of the necessary paper work for you in just few weeks or even days, whereas with smaller companies it may take months to get you the work permit and meanwhile you have this never-ending thought that you will be denied, and exported ... so just be careful of whom you plan to work with. If you do get a job, make very sure that the paperwork has been completed before you sell all your possessions and buy that one-way airline ticket.