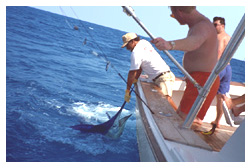 "The anglers were nestled all snug in their beds, while visions of roosterfish danced in their heads".
Apologies to Clement Clarke Moore, who wrote 'Twas the Night before Christmas' almost 200 years ago, for this bit of poetic license. Of course, had he been a fisherman — and we can't rule that out — he would surely understand.
There was more than roosterfish on the mind of Steve Hanna and his group, whom Costa Rica Fishing hooked up with Tamarindo with Captain Manuel Leal on the 36ft Capullo out of Tamarindo in the North Pacific. Steve's party raised three marlin, releasing a striper and a 275lb black, and also bagged three 20-40lb tuna on a very good day.
2010 fishing season ends with a bang!
A couple of days earlier, Erin Fitzsimmons and her group on the 42ft Dragin Fly out of Los Sueños Marina in the Central Pacific managed 'just enough' to call it a successful day, releasing two billfish and keeping a big dorado for dinner.
On the Caribbean side, the winds prevented our good buddy and long-time client Jim Tyson and his friend Jim Tyson (former Costa Rican ambassador to the U.S., who will take up his new post as Costa Rica's ambassador to the European Community in January), fishing with Captain Eddie Brown out of Tortuguero/Barra del Colorado on the 22ft Bull Shark, from getting out of the river mouth for tarpon. Even so, they did manage to land two tasty 15lb snook fishing in the lush green canals and lagoons of the exotic tropical wonderland around Tortuguero National Park.
And three quick success stories courtesy of FishCostaRica/Americana Sportfishing:
1) Tim Randolph, fishing with Captain Bobby McGuinness on the 37ft Cazador just outside Golfo Dulce in the South Pacific, got three tuna, each more than 90lbs;
2) Jeremy Calhoun, who did two days with Captain Tomas Siquiera on the 31ft Fandango out of Los Sueños, released a nice black and kept at least a dozen grouper, among others; and
3) Bill Unger group, who fished (U.S.) Thanksgiving Day with Captain Rick Morrow on the 35ft Fish Tale II out of Papagayo Marina in the North Pacific, released a blue and two sails, and returned with a 40lb dorado.
Billfish bite beginning in the Central Pacific
Now it's up to you to carry the 2010 success stories into 2011. The traditional extraordinary sail/marlin bite is just getting underway in the Central Pacific (Sara Young, boat manager of the 32ft Miss-Behav'in and 26ft Predator out of Los Sueños told me that marlin were already biting last week) and will continue through April; ditto for the South Pacific, which offers perhaps the finest offshore/inshore fishing combo in all of Costa Rica.
Article by Mark from Costa Rica Sportsfishing

Calypso Cruises