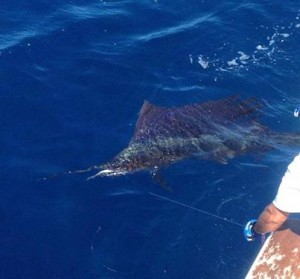 Two thousand, one hundred and seventy billfish released in three days! If this doesn't make all you avid saltwater anglers scurry to get on the next plane to Costa Rica, we don't know what will.
Los Suenos Marina, reputedly the finest marina on the Pacific coast south of the US border (Cabo San Lucas in Mexico and Viña del Mar in Chile might beg to differ, but who cares), just hosted Leg 1 of the First Annual Los Suenos Signature Triple Crown Tournament.
Forty-two boats along with 200 experienced anglers converged on Los Sueños to participate. There are three legs in the event, each with three fishing days. Prize money is awarded to the top finishers in each of the legs. The winning team after the three legs takes home a guaranteed cash prize of $100,000.00.
2,159 Sailfish and 11 Marlin released in three days …
After the three days of Leg 1 had ended, the totals were mind-boggling. The 42 boats released 2,159 Sailfish and 11 Marlin. That is an average of 51 billfish per boat, or 17 per day each. Top boat was Xta Sea with 7800 points – seventy-eight Sailfish released. Second was the 42ft Spanish Fly, one of the most popular charter boats in the marina. Captain Daniel Espinoza (upper left) released 68 Sailfish, amassing 6800 points. And the team pocketed a cool $39,000.00 for their superb efforts.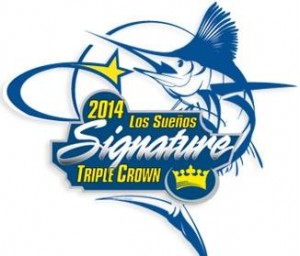 A few days before Leg 1 began, Daniel had recorded his 10,000th Sailfish release on the Spanish Fly – no mean achievement in itself. Sea Angel was third, also with 6800 points, just nipped by Daniel, who had called in his final release four minutes earlier than the Sea Eagle.
Congratulations to the superb teams and captains have poured in from the entire sportfishing world
Day 1, January 23, of the first leg started with a bang. Boats, as they did all three days, left the marina at 6 AM. Lines went in at 8 AM, lines out at 4 PM. Tallies came in throughout the day. The 42 boats released 692 Sailfish and four Marlin on Day 1. Pelese released 30 Sailfish for 3000 points. Second-place Pescadora released 28 Sailfish, while Muy Caliente and Gunsmoke released 25 each. Thirty-eight of the 42 boats released at least 10 Sailfish. This was a record for any day of any Los Sueños tournament, and perhaps for any day of any tournament patronized by International Game Fish Association and Billfish Foundation. But the record was doomed to be short-lived.

Day 2. The final tally didn't quite reach Day 1's total. The 42 boats released 'just' 677 billifish: 673 Sailfish and four Marlin.

Day 3. In eight hours of fishing, the boats released 794 Sailfish and three Marlin. Incredible! Xta Sea released 32 Sailfish (3200 points); Sea Fix released 26 Sailfish and one Marlin (3100 points); Tuna Bite released 30 Sailfish (3000 points). Day 1's record was shattered by more than 100 releases.
The First Annual Los Sue̱os Signature Triple Crown tournament is the melding of two ultra-successful tournaments Рthe decade long Signature Billfish Series and the Marlin Invitational. Leg II gets underway February 26; fishing begins the next day. Leg III is scheduled for March 12-15. Will Leg I's record stand up?
Most of the boats and teams entered in the Los Suenos Signature Triple Crown tournament come from the private side of the marina, but several popular charter boats competed and finshed well: the aforementioned 42ft Spanish Fly with Captain Daniel Espinoza; the 42ft Dragin Fly with Captain James Smith; the 38ft Tres Amigos with Captain Timmy Blair, to name a few.
All of these boats, and many more of Los Sueos' top boats and captains, can be chartered through Americana Sportfishing.
Article by Americana Sportfishing/Fish Costa Rica.You can call them free today: 1-800-407-9438 from the US and Canada, +506 2282-7215 from everywhere else, or e-mail us now.

Calypso Cruises