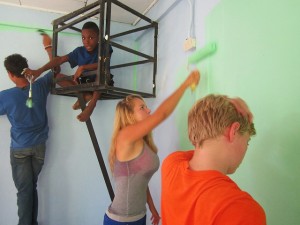 This August, twenty students, teachers, alumnus and parents from the Meadowbrook School of Weston, Massachusetts, along with three guides from Costa Rican Adventures, traveled through Costa Rica to revisit some of the communities they had been introduced to during the school's class trip in February 2013.
The group came with two very ambitious service goals: 1. Building a library at the PANI transitional home in Limon, and 2. Installing solar electricity at the Melleruk School in the BriBri indigenous reserve in Talamanca.
The Meadowbrook School has been executing service projects at both PANI and Melleruk for the past several years, through their annual 8th grade service and adventure excursion with Costa Rican Adventures. They have been working together on experiential Costa Rica student trips for the last 8 years.
This summer, the group's first visit was to a home in Limon that houses children who have been removed from their homes by the Costa Rican Social Services. The children there have always endeared themselves to Meadowbrook students through their resilience and pervasive joy and optimistic nature. A dozen Meadowbrook students, touched by their engagement with the PANI children during their CE school trip, were committed to continuing to support these young people. Together, the Meadowbrook students raised $7,500 to remodel a nearly condemned building and turn it into a learning center.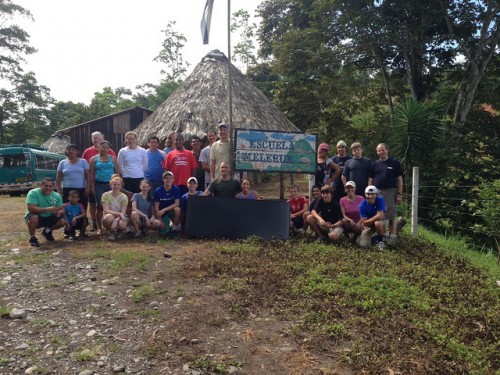 Costa Rican Adventures organized the partnership of a local contractor to work with the tradesman from the Meadowbrook parent community. In just two intense days of work, the group replaced windows, doors, sinks, toilets, lights, electrical wires, as well as repainted, swept, mopped, and decorated. One of the students, on her third service oriented Costa Rica student tours, coordinated both the purchasing of furniture for the room and brought nearly one thousand pounds of donated clothing, books, games, and toys for the children at PANI. At the conclusion of the project, Meadowbrook students invited all of the children into the new center for a tour, and in that moment, seeing the reactions of the children at PANI, everyone was reminded of why they had come.
The second component of the service project was to install an off-grid solar electricity system at a remote school called Melleruk on the Bribri indigenous reservation. Costa Rican Adventures has been working with the BriBri community since 1995, and with the Melleruk School since 2009. The project received ten solar panels donated by TSMC Solar and sponsorships from Boston Solar and New England Solar.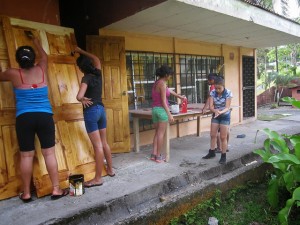 Each traveler packed wires, lights, switches, fixtures, charge controllers, and hardware in their suitcases, as the entire system had to be transported from Boston. With an array of experienced adults, including plumbers, electricians, engineers, and carpenters, by the third night, the Meadowbrook group turned on the first lights in the schoolhouse! On the following day, a complex system that involved pumping water from a pre-existing well across a 71-foot ravine and into the school's kitchen was completed. In addition to dependable running water, Costa Rican Adventures and Meadowbrook supplied full illumination for both schoolhouse buildings, an AC power outlet for modern appliances, and portable, rechargeable LED lights to serve as reading lights and flashlights.
The Meadowbrook School 8th grade class will be traveling to Costa Rica with Costa Rican Adventures in February 2014, to follow up on the projects from the past summer and to further develop relationships, buildings, and services in these communities. Costa Rican Adventures is proud to work with Costa Rican communities that actively engage in and take ownership of the benefits brought by meaningful, sustainable community service projects, and has unmatched expertise in connecting a traveling school's educational and service vision, with the vision of local Tico leaders in rural communities.
Community buy-in and engagement and ownership are key components of such successful community service – without local participation and commitment, even the most well-meaning projects can fall short of enduring impact. Truly sustainable community service is rare and Costa Rican Adventures works hard at fostering the relationships at the core of such efforts. The PANI and Melleruk communities are wonderful examples of committed locals who have contributed time and effort to maximizing the impact of helping hands.
Costa Rican Adventures is also proud to work with schools like Meadowbrook, inspiring and engaging groups of travelers who are committed to making positive change here in Costa Rica. When done right, educational travel and meaningful community service really can change lives!
Article by Crawford Hill, who is the owner and director of Costa Rican Adventures, an educational travel company focused on cultural immersion. An expedition leader, former biology teacher, and educational innovator, Hill has been guiding students and adults on wilderness adventures since 1974.

Calypso Cruises