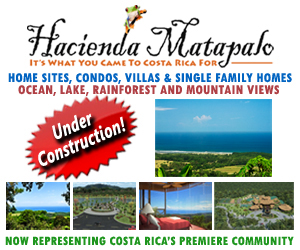 Those in the real estate business know that there are three items that sell homes, Location, Location, Location.
In case of the "controversy" Hacienda Matapalo development, a "proposed" 665 acre resort style gated community, situated in a rainforest on a mountain overlooking the Pacific between two beach communities of Quepos and Dominica, location couldn't have been a better selling hype, especially with the new Coastal Highway going in.
Except, the epitome of location, etc, refers to homes already built, which is what Hacienda Matapalo never had.
In the building boom of the early 2000s, Costa Rica's coastal properties values increased 500%. Everybody came down with their imaginary equity and purchased incredibly overpriced real estate. By 2007, just in Jaco, the skyline was filled with high-rise construction on the feeding frenzy of developers and speculators investing in property.
Also in 2007 Hacienda Matapalo published their website with beatifically renderings of an elegant gated community surrounded by lush tropical forests, cascading waterfall and breathtaking views of the Pacific. They offered 1.25+ acre home sites, single-family homes, villas and condominiums, all equipped with state-of-the-art connectivity including satellite, Internet, telephone and 24-hour security. It seemed like the perfect investment directed at a market that would continue to appreciate at an alarming rate.
Sounded too good to be true. If you Google "Hacienda Matapalo," about 20 Costa Rica real estate websites have the project listed.
Anyone that knows Costa Rica knows that the U.S. economy greatly affects Costa Rica. And every realtor in Costa Rica knows real estate has been in the slumps for the last 3-four years. An ocean view lot that sold for $200,000 five years ago may only be worth $60,000 now.
With beginning of the deflating market, Hacienda Matapalo may be worth 2/3s less than what the developers first made a deal to and to add more insult to injury, if the developers forted out mucho money for architects and engineer fees, sales force, permits, and some minor improvements.
WAS HACIENDA MATAPALO DOOMED FROM THE BEGINNING?
Reputable realtors' in Costa Rica (ones that have been selling real estate for over 12 years) will tell you, "There were to many warning signs" – the project was doomed from the very beginning.
Back in 2008, traveling to see some property my friend has listed, I first saw the sign. Asking my realtor friend, "Whose that?" he calming replied, "Just another Gringo trying to get Gringo dollars for a property that they paid way too much money for in the first place."
Interesting comment and one that following with the below red flags since 2007.
They offered homes and lots that had no Infrastructures like water, cable, gas and electric etc.
A hefty deposit was required to reserve a lot/home that was not even graded and whose ONLY vision were a ton of renderings.
They claimed, even with the burst of the US housing market, this would not affect your investment for that dream home.
No clear paperwork if the land was free and clear, only a promise it was.
No secure financing from a reputable lender from day one.
Taken the above in consideration; a clear sign that investor's money was needed FIRST, the project became the perfect cliché, Buyer Beware.
Four anxious years (March, 2011) later Hacienda Matapalo announced (in a free Press Release) it has secured financing and it has already had presales of $65 million. The announcement came with a YouTube video showing workers building roads.
By this time, with an aggressive sales and PR force (who have now sought work elsewhere) had secured millions in deposit money from foreigners who were promised, titles to the property, so they could start to build or live in their dream or vacation home within months.
For the next few months investors were feeling good that their long awaited dream was coming true.
Then out of the blue, in a major chain of events two months later (December 2011) Centam Partners LLC, who owns Hacienda Matapalo, filed for Chapter 11 protection in the Southern Florida Bankruptcy Court. Two months later (Feb. 3, 2012) consented to dismissal of the bankruptcy on, what someone said, "A classic case of a filing in bad faith and without any prospect of reorganization."
Website We Love Costa Rica was the first to break this disturbing news shortly after the public filing, and then Costa Rica News Site did a follow up story on it on May 31st.
Whether or not it was one big scam or ponzi scheme from the beginning or just bad timing of the real estate market, only the courts and/or law enforcement will decide that. One thing known for sure – there appears to be a lot of money unaccountanted for and the principles of Centam Partners are not communicating with investors.
Tico Times Directory/Blog were the ones that started the bandwagon on disgruntled investors back in Aug, 2009, when we wrote an article about how to protect one against Costa Rica real estate scams and fraud.
About a year and a half before the bankruptcy filing (April, 2010), we started getting comments on what quickly has become a chat room of some very unhappy investors with over 200 comments which increases daily. Who, unless someone dumps a ton of money into the project and/or real estate price skyrocket (which is not going to happen) will have to say, "Adios" to their money and move on, or take some type of legal action.
To follow investors comments go to the Costa Rica Real Estate Fraud post.

Calypso Cruises