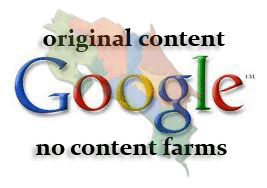 There are many ways to market ones Costa Rica business and one of them was to submit articles.  There are websites called, article directories (dubbed, Content Farms) that accept numerous articles from numerous authors. A couple of well known places are EzineArticles.com and Buzzle.com. These Content Farms helped send traffic (by your author and/or business link) over to your website.
But things have changed. A few weeks ago, Google had a major algorithmic update which focused on Content Farms. They claimed these were not "quality sites" because they listed "low-quality" content where much of the content was copied, and/or duplicated (same article sent to many) and/or nothing but sales hype. Google states that this improvement will impact almost 12% of all search queries, a high percentage. A new extension for its Chrome browser NOW lets users block specific sites from showing up in their search results.
In otherwords, Google is now officially demoting sites from search results with poor or useless content and wants to index quality content.
We received around 3-4 articles a week.  We only accept between 4-5% of them. Many get disappointed when we reply back, "Sorry, the article is nothing but a sales hype. " Sometimes we accept an article, and learn later, the "same" article has been submitted to numerous "Content Farms." This is not good, because it is now considered, "sp@mming," and it may jeopardize our rankings at Google and other search engines.
At Tico Times Directory  our policy has always been promoting Costa Rica. We do it by trying to list quality websites in our directory and love articles that focus on information, pro/con opinion, personal experience, and general interest. We optimize all websites and articles before we promote and/or market them on Social Media, like Facebook, Twitter and Linkedin. All of our categories (directory and Blog) have RSS feeds.
Writing an article that promotes ones' business in Costa Rica is not that difficult, all it takes is expertise, effort and thought.  It is crucial to understand that site promotion is a long-term, low-intensity effort where your website reaps in the rewards for months/years to come.
So let's say you have just opened up a small eco Bed and Breakfast place in Golfito. How do I strategically  market it?
The first thing (most important) is to establish creditability and expertise and you are not going to do it with one article.  There is nothing worse than seeing an article that is nothing but a sales hype (that's what your website should do) –  you do this by formatting a few articles that "surround your Bed and Breakfast or business,"  but at the same time targets your business. Interesting Concept!
Your first article may be about Golfito in general, and nothing is better than personal experience. Addressing cool things to do, like taking a Golfito sailing or fishing charter are always an interest.  Or some recreation like hiking, what wildlife you saw (it gets uses exited when you saw those Jaguar's tracks) and preparing for a hike in the tropics, what cloths to wear, insect protection etc.
Your second [and maybe third article] could center on another subject. If your B & B uses green materials and products write about what you used. If you used a particular solar panel or water storage unit, call up or email the manufacture or supplier and get some technical info and add that to the article. Users love any type of eco-stuff.
Your last article can be what it takes to run a B & B in Costa Rica like how to get supplies like cleaning products. If you owned or managed a B & B in the US, what is the management difference? What hurdles did you have to over come, like permits and buying the business?
The above targets users looking for recreation, general business, and ecology information in Golfito so you encompass different subjects (keywords) that give your business more exposure other than Bed and Breakfast in Golfito.   Suddenly, your article becomes a marketing teaser to those seeking more info when your author and/or business link is added at the bottom of the page and/or interfaced in anchor text links throughout the article, as this article is.
Unlike other websites, we do not use the No Follow Attribute on our links, so your link also becomes valuable to help get good search and links results.
The bottom line, whether it is submitting an article to us or to another website, always write original and knowledgeable content.

Calypso Cruises