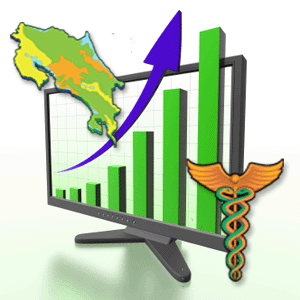 Costa Rica has become the first choice for Americans, Canadians and Europeans seeking quality and affordable medical treatment, or what is known as medical tourism and wellness.

SAN JOSE, Costa Rica.  According to Mark Sydney of Americana WellcareCR,  between 150,000 and 200,000 foreigners could be traveling to Costa Rica in 2011 for medical procedures.
It's hard to give an exact figure, but based on statistics from the middle of this decade (150,000 in 2006), Costa Rica might expect almost 200,000 medical tourists this year, said Sydney, whose company, Americana WellcareCR based in San José, Costa Rica, brings people there for medical treatment.
What draws most medical tourists to Costa Rica is the low cost of medical procedures compared to their countries; the high quality of medical personnel and medical services; and the speed at which the required medical treatment can be obtained.
Cosmetic surgery and dental treatment, not necessarily in that order, are still the most popular treatment here, says Sydney. But more and more people are coming to Costa Rica for orthopedic and bariatric surgery because of the cost and the benefits of some of the best recovery centers in the world, where a patient's post-op recovery is monitored 24/7 in an eco environment with trained professionals.
Example, a facelift, costing between $7,000 and $9,000 in the United States, can be obtained in Costa Rica for about 70% of that. Not only does Costa Rica have many acclaimed plastic surgeons such as US-trained Dr. Alberto Argüello, but excellent private full-service hospitals such as Clínica Bíblica, CIMA and Clínica Católica. Standards there are on a par with well-known hospitals around the world.
See Costa Rica Medical Costs vs. US
Like every single hospital in the U.S. and Canada, these three have passed inspection using the same criteria and have been accredited by the JCI (Joint Commission International). If a hospital doesn't pass in North America, it will be shut down.
"An increasingly growing sector of medical tourism here in Costa Rica is orthopedic surgery," says Sydney. Costs, of course, are the main draw. A knee or hip replacement that will set you back up to $40,000 in the U.S. can be obtained in Costa Rica for under $15,000, done by medical practitioners such as Dr. Oscar Oeding, one of the most esteemed orthopedic surgeons in Central America."
Mr. Sydney adds, "Another fast-growing area of medical tourism in Costa Rica,  is bariatric, or weight-loss surgery, to cure obesity, and more important, treat Type 2 diabetes. You can get this surgery to treat Type 2 diabetes and obesity in the United States, Canada and Europe, but ONLY if your Body Mass Index (BMI) is 35 and over, Here in Costa Rica this surgery gastric bypass is available for Type 2 diabetes sufferers with a BMI of under 35, based on a rigid pre-surgical examination. Our diabetic patients who have undergone bariatric surgery not only have had their diabetic and other related meds reduced by half and more; those greatly overweight have shed literally tons of excess weight."
Two years ago CBS 60 Minutes News did a segment on Gastric Bypass Surgery to  Cure Type 2 Diabetes.
Patients have only one regret, Why didn't I do this sooner?
About the author:
Mark Sydney was an international bureaucrat working for the International Labor Organization in Geneva, Switzerland, and later on hired Soviet Embassy in Ottawa for its press and publications department before migrating to Costa Rica where he has been involved in the sportfishing, real estate and medical tourism industry for the last 15 years. For more information, visit Costa Rican Medical Tours

Calypso Cruises