General Medical and Police Services
Medical care in San Jose is adequate at the public hospitals, but super at the private hospital.  Areas outside of San Jose have more limited medical services, and road conditions increase driving times to hospitals for routine or critical medical care. Doctors and hospitals often expect immediate cash or credit card payment for medical services.  Local Cruz Roja (Red Cross) ambulances, usually the first responders to accidents, are minimally-equipped to handle emergencies.
U.S. medical insurance is not always valid in Costa Rica and many insurance companies are now covering Costa Rica, so check with your insurance broker.  Supplemental medical insurance with specific overseas coverage, including a provision for medical evacuation, has been useful in many emergencies.
Costa Rica does employ a 911 emergency assistance system and it is the best in all of Latin America.  However, response time varies widely in the remote areas; it can take up to several hours. But in the major cities, it is surprisingly fast.
As of December 2006, Costa Rica deployed it's first group of tourist police, focused on tourist crime and assistance to the nearly two million visitors to Costa Rica each year. The deployments of these officers, who wear a white uniform shirt with Tourist Police clearly printed on the back, is currently around 240 officers, with more being trained, but not by actor Steven Seagul ;-( thank God!!   Some of the initial Tourist Police areas of deployment are: San Jose, the Guanacaste beaches, Jaco, Monteverde, Arenal, Los Chiles (border with Nicaragua), and Quepos, the location of Manuel Antonio National Park.
Foreigners who [particular Americans] who somehow get into trouble, like being drunk in public and arguing over a bill and if the police are called and you are detained, best advice is to cooperate, identify yourselves as as what county you are a citizens of. If your are arrested, request to make contact with the embassy immediately.  Harassment of Americans is rarely directed at the Americans for their nationality.
Visitors should not attempt to bribe local police officers.
EMERGENCY NUMBERS –  Medical Emergencies
Police Emergency: 911
Ambulance: 911 or 128
Fire:  911 or 118
OIJ:911, (506) 2222-1365 or (506) 2221-5337
Tourist Police: (506) 2286-1473
Red Cross Ambulance: (506) 2233-7033
Air Ambulance Services
Visitors should consider purchasing private air medical insurance before traveling to Costa Rica, which will provide medical information and assistance to overseas travelers.
Costa Rica Medical Response
Monteverde: (506)2645-7778
San Jose: (506) 2286-1818
Papagayo: (506) 2670-0047
Limon: (506) 8841-8404
Local Hospitals and Clinics in San Jose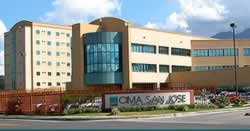 CIMA Hospital: (506) 2208-1000 – this is a private hospital is the primary hospital for embassy personnel and probably the best hospital in Costa Rica
Hospital Mexico – Uruca, San José – Costa Rica Telephone: 2232-6122
Barrio La Uruca in front of the Autopista to the Airport. The hospital has 633 beds. It has many well trained physicians, however it is crowded and there are equipment shortages. (this hospital should be utilized in the cases of a life threatening emergency)
Hospital Nacional de Niños – San José, Costa Rica –  National Children's Hospital: (506) 2222-0122
This is a 250 bed hospital for children only. It has private rooms with baths, telephones and space for an extra bed in each room. The equipment operating rooms, and its pediatric specialists are the best in Central America. Only children under the age of 12 should be brought to this facility for life-threatening types of emergencies.
Hospital Clínica Metropolitana Costa Rica – San Juan de Dios, 300m sur. Avenida 8, Calle 14.
Metropolitan Hospital Clinic offers outpatient services, medical imaging, clinical laboratory, pharmacy, endoscopy, surgery and  emergency care and hospitalization. Specializes In: cardiology, general surgery, pediatrics, dermatology, gynecology, oncology, orthopedics, urology, orthopedics
Clinica Biblica Hospital: (506) 2522-1000 ext. 9 – private facilities, and will require payment up-front for non-emergency care.
High quality medical tourism services and personalized attention, Costa Rica best hospital,  located in beautiful, San Jose.
Hospital Calderon Guardia: (506) 2257-7922
Hospital Clínica Católica (private) San Antonio de Guadalupe, San Jose: 2246-3000
Hospital Rafael Ángel Calderón Guardia – San José – Costa Rica
This is a 622 bed hospital. The surgical theaters, cardiac care unit and the intensive care unit are well equipped. This hospital should be utilized in the case of a life-threatening emergency.
San Juan de Dios Hospital – (506) 2257-7922 – 14th Avenue. 6&7 St. Paseo Colon, San Jose, Costa Rica
Jaco
Clinica Hospital Santa Catalina – Tel: (506)643-5059 – Email: info@gruposantacatalina.com
Clinic CARE – Tel:(506)643-4300; San Jose Tel:(506)290-1676; E mail: emergenciascare@racsa.co.cr
Puntarenas
Hospital Monsenor Sanabria: (506) 2630-8000
Limon
Tony Facio Hospital: (506)  2758-2222
Guanacaste
Enrique Baltodano Hospital: (506) 2666-0011
Ciudad Nelly (Near Panama)
Hospital Ciudad Nelly: (506)  2783-4111
Nicoya
Hospital Anexion: (506) 2685-8400
Los Chiles
Hospital Los Chiles: (506) 2471-2000
San Carlos
Hospital de San Carlos: (506) 2460-1176
Cartago
Benemérito Hospital Dr.Max Peralta de Cartago, Costa Rica (506) 2550-1999
Perez Zeledon
Hospital Escalante Padilla: (506) 2785-0700
Alajuela
Hospital San Rafael de Alajuela:  (506) 2436-1001
Heredia
Hospital San Vicente de Paul: (506) 2261-0091
Complete medical facialties, include 24/7 emergery care, Pharmacy, Clinical Laboratory, Blood Bank, Social Work and Nutrition center.
Socialized Medical Care
The Social Security System or the Costa Rican Social Security Bureau is a public institution that manages the national healthcare system. It´s also supervised by the Costa Rican Ministry of Health. This system was introduced in the middle of the 20th century in the government of Rafael Angel Calderón Guardia. It is paid for by mandatory employers and employees contributions. Employers have to 14% over paid salary and 9% from the employee. The system includes Medical Treatment (illness and maternity) and Obligatory Pension (disability, old age and death). The main hospitals of the Costa Rican public service are:
Mexico Hospital – La Uruca, San Jose, Costa Rica; P.O.Box 11318, San Jose, 1000; Phone: (506)-2228-6992
Calderon Guardia Hospital – 17 & 19 Av. 7&9 St. San Jose , Costa Rica; Phone: (506) 2257-7922
San Juan de Dios Hospital – 14th Avenue. 6&7 St. Paseo Colon, San Jose, Costa Rica; 17 & 19 Av. 7&9 St; Phone: (506) 2257-7922
Blanco Cervantes Hospital – San Jose, Costa Rica
Costa Rican Health Ministery Zone – Phone: (506) 2257-8122
Children National Hospital – Paseo Colon, San Jose, Costa Rica; Phone: (506) 2222-0122
Max Peralta Hospital – Cartago, Costa Rica; P.O.Box: 302, Cartago, 7050; Phone: (506) 2228-6992
Psychiatric Hospital – From the American Ambassy, 1 km. West; San Jose, Costa Rica; Phone: (506) 2232-2155
Women Hospital – San Jose Downtown, Costa Rica – Phone: (506) 2257-9111
Max Peralta Hospital – Cartago, Costa Rica; P.O.Box: 302, Cartago, 7050; Phone: (506) 2228-6992

Calypso Cruises