We have just discovered why the Costa Rica sea turtle is going extinct, it is not being trapped in fishing nets, pollution,  global warming or tourism development, but local Costa Rican's  over harvesting eggs where many are starting to claim, it has becomes an illegal attack against nature.
The above photographs [that have been plastered all over the internet],  show the destruction and/or legal harvesting of  turtle nesting sites in  Ostional, which is on the Guanacaste Peninisula.  As you can see, bags and bags  are literally filled with thousands of eggs. These bags are being carried away are supposed to be sold into the local economy, but unfortunately  most end up  on the Asia or other overseas black markets where the price is 10 times higher and this is where the debate starts.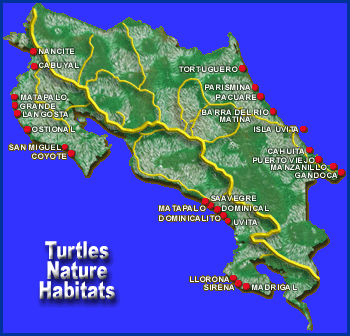 Costa Rica has always claimed they were one of the forefathers of turtle conservation.
And Earthwatch recently praised several conversation programs in Guanacaste, Costa Rica with their "Help Save Leatherback Sea Turtles from Extinction" program.
The coast of Guanacaste is one of the most important remaining nesting beaches in the world.
They went on claiming about these conservation programs, where each night people will sit on the beaches and monitor nesting leatherbacks, measure and tag them, record nest locations, and count eggs to help the researchers determine which factors—from El Niño and La Niña to coastal development—influence nesting success for this critically endangered species. But is it working?
Which ever way you put it,  "How can the people of Costa Rica allow this many eggs to be taken?"
Read this article from the Sea Shepherd – Where Have all the Sea Turtles Gone that came out a few weeks after this article.
…  so what we have done is made a poll to get some feedback on …  Sea Turtle Poll on Whether or Not this is over Harvesting and/or Legalized  Poaching,
… so please let us know how you feel! Thanks

Calypso Cruises