Tropical Storm Tomas pounded Costa Rica with strong winds and heavy rains that triggered hundreds of landslides, power outages, and road closers all over Costa Rica. The storm hit the Quepos area very hard.
The country's National Emergency Commission said in an e-mailed statement, torrential rains have left Costa Rica in emergency status; mudslide in Escazu (suburb of San Jose) killed 20 people with an unknown number missing. All over the country, many roads are closed and some bridges out. It has not stopped raining for three days. Rain was coming down so hard; it felt like it would knock you to the ground. Flooding was everywhere.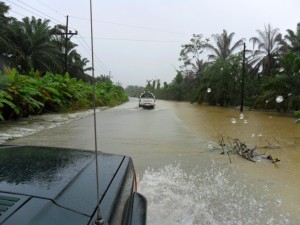 After fishing in Puerto Jimenez, and hearing about the storms impact via Twitter, Facebook and calls to us, we left early. About 30 kilometers later we got stopped dead, staring at a sink-hole section of road about 20 yards wide, that  happened just 30 minutes before, because there was only  a few truckers and one car in front of us. Getting around it was a feat, and we have some unreal video of it. One person got hurt when he slipped and fell into the hole.
From there on is was pretty much of a lets-try-this-way, after the town of Chacarita, trying to get to Jaco. From Palmar Norte to Buenos Aires mudslides after mudslide left truckers and travelers stranded.
A kid told us, the road was clear, and then an hour later, another mudslide happened  200 meters down the road.
It will take days to clear the roads and maybe longer as crews with heavy equipment clear one section of road and another mudslide happens.  Heavy rains pounded Costa Rica all day on Friday.
Big rig trucks and cars were lined up as far as one could see just north of Palmar Norte. The 100 year old bridge at Parrita was completely destroyed. The storm left 100s seeking emergency shelters and one person died.
The Rio General, one of Costa Rica largest rivers was over flowing. One Tica said, he had lived in Palmar Norte for 50 years has never seen it like this. It was one massive mass of water screaming out of control.
We have to thank long time friend, Richard Krug from Costa Rica Fishing,  who kept in consent communication via cell (when he could get a connection) with several people in San Jose, getting update reports on road conditions. All efforts ended up with roads blocked with mudslides and finally we ended up in Golfito, where one in our party had to get back to the states. Golfito had the closest airport and our friend could not take the gamble that the roads would open in a few days.
We also have to thank Bobby McGuinness who got us a hotel for free.   This morning we have chartered a plane. However, late last night San Jose airport was closed.
Traveling in conditions like this is a hit and miss. During times like you have to rely on word of mouth. Problem is, as the information gets passed it has a tendency to get twisted and that is why sometimes you have to forge forward or in our case backwards to  Golfito.
Related Video and article: Driving to Puerto Jimenez



Calypso Cruises