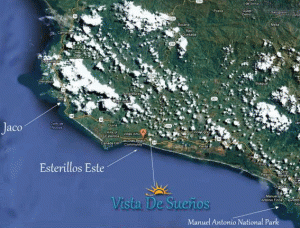 Vista De Sueños (View Of Dreams) – Experience 100 acres of rolling hills with ocean, panoramic and forest views to sooth the soul and make your dreams come true.
You can live by the coast of the pacific ocean with one of the largest and most private beaches in Costa Rica.
Investors who participate in the Vista De Sueños project will have the opportunity to earn land developer type returns without having to invest millions.
The above opening three paragraphs [a cut and paste from Vista De Sueños Investment Project]is promoted on the poorly organized and very vague WordPress website Higher Life Estates Inc. And just a few days ago they published another poor website under a domain name, Vista De Sueños. Does this sound like the Hacienda Matapalo Development hype?
And where a couple of years later we got 100s of pissed investors comments on our on Costa Rica Real Estate Fraud? blog post..
If the reader has not figured it out, the keywords here is "INVESTORS and You CAN Live."
According to Vista De Sueños Investment Summary (which you can download from their website) their initial offering is $2.5 million, with an estimated return of 50% on your "minimum participation" of $30,000USD.
Hummm? Sounds a bit fishy, especially when emailing and talking to many agents that know and sell in that area, the project's principles do not ring a bell.
Thanks to a user (who sent us some basic information) and special thanks to Google search this is what we learned on Vista De Sueños Development/Investment in Esterillos, Costa Rica.
One of the partners/principles in Vista De Sueños is Larry Schooler, a resident of Clearwater, FL.
Now Google tells us that Mr. Schooler has many business associations with Florida license attorney Anthony J Troiano who was sentence to six years in prison for mail and wire fraud and has to pay $2.4 million in restitution to his victims – ironically, some of the projects were linked to Costa Rica.
Some of the real estate business that Schooler and Troiana were associated with are, Quadstar Land Management, Gidamon Land Investment, Monterey Vistas Land Investment and Phase V Investment Group.
Google also tells us, the project has been hyped by Russ Whitney's Millionaire University in Cape Coral, Florida. Millionaire University has been Sued For Allegedly Scamming Students. According to the complaint, Millionaire University (MU) "professors" first build trust with their students (who pay as much as $20,000 on these real estate investment classes) then go in for the kill by offering "real estate investment 'opportunities."
And guess who was one of the professors at this School? You guess it, Larry Schooler. According to another real estate lawsuit in Tampa, Florida, and we quote from page 13 of the complaint, "Mr. Schooler, cultivates and establishes relationships and trust with the students" and then it goes further on, to make real estate investment that principles of Millionaire University recommends. Humm, interesting!
Vista De Sueños claim that infrastuctures (water, cable, gas and elec etc) are going in – but like Hacienda Matapalo, many videos showing the work be done does not mean it is completed. In fact, one video showed a guy opening up a water valve on some dirt road. There is no homes, graded lots, paved roads, no indication that the land is free and clear, and even if they claim they have a few million in deposits/secure financing, they do not mention from who?
They even have a youtube video House Hunters International Episode about buying a home in Costa Rica – what you are buying in Vista De Sueños is ONLY an investment with many red flags, so buyer beware!
EDITORS SPECIAL NOTE: There are a lot of top quality and reputable real estate agencies in Costa Rica with lots of great properties for sale. If you are looking to buy in Costa Rica, email us and we will send you a list of reputable real estate agencys.

Calypso Cruises