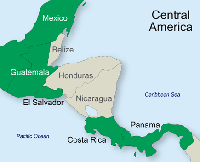 COSTA RICA, CENTRAL AMERICA
Central America (Spanish: Centro América or América Central) is the central geographic region of the Americas. It is variably defined either as the southern portion of North America, which connects with South America on the southeast, or as a region of the Americas in its own right. Most of Central America is considered to be part of the Mesoamerican biodiversity hotspot.

The stunning destinations of Central America are rich in cultural treasures, with a glorious backdrop of luxuriant tropical foliage, towering mountains and a bevy of navigable rivers and lakes. All this, populated by warm and hospitable people. Soak in the sparkling Pacific or Caribbean, stand in the mist of the world's most magical waterfalls, and surf, swim and snorkel to your heart's content.
Journey deep into the dense and vibrant jungle, where rare birds, exotic animals and colorful plant life abounds. Explore the ruins of mighty civilizations that have been lost to the ages.

Nicaragua Surf Reports and Travel