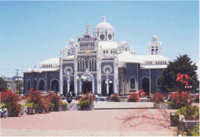 COSTA RICA CARTAGO PROVIENCE
Cartago is a city in Costa Rica, about 25 km (15 miles) east of the capital, San José. The colonial atmosphere of the area and lunar-like landscape of Irazu, the country's tallest volcano, await visitors to this historic province. Guayabo National Park exhibits excavations of important pre-Columbian structures.
It is at an elevation of about 1435 m (some 4930 ft) above sea level on the Cartago River, at the base of the Irazú Volcano. Cartago is the capital of Cartago province. The city covers an area of 152,68 km². It includes the districts of city downtown: Oriental, Occidental (known as the typical downtown area), San Nicolás (the main entrance to the city, at west), El Carmen (north), San Rafael de Oreamuno (at east, is the capital of canton of Oreamuno), Dulce Nombre and San Francisco (at south, San Francisco is known commonly as Aguacaliente). In 2008 the city will have a population of 156,600 inhabitants.
Places to see: Lankaster Gardens, Orosi Valley, Tapantí National Park, Turrialba, Guayabo National Monument