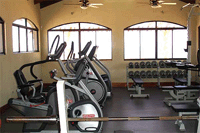 COSTA RICA FITNESS - HEALTH CENTERS, GYMS
Okay, you awake in Costa Rica after avery hard night parting and want (or need) to work out? Want a full aerobic workout to sweat out those Imperial's? Or get on a treadmill and run for an hour. Or just grind and lift some weight! Many of the hotels have full or nice workout centers with an assortment of equipment, including treadmill, weight machines, stationary bikes and free weights.
There are also full service workout and fitness centers that provide personal trainers, classes or schedule aerobics with modern facilities just like in the U.S.. World Gym Fitness has outlets in Costa Rica. After sweating out that 6-pack, sit in a sauna or Jacuzzi for a while – whatever your poison for fitness, Costa Rica has it all, including women only programs.
View some articles on Costa Rica's Medical Tourism - Medical Costs in Costa Rica vs US, Diabetes Cure in Costa Rica, Stem Cell Care Treatment, Wellness and Health Care and Wellness and Rehab